Hello everyone!
Today I have my first X-mas post for you! I placed a bunch of orders over on eBay for my blog, my X-Mas DIYs and just for myself, so I wanted to share some of these with you.
Also, I have some deals for you that you probably won't be able to refuse. They include both saving money and making money, while shopping online! I am sorry if it sounds a bit to salesy 😀 But I really am impressed with how fast you can earn money and how much money you can actually save with these.First of all, I am going to show you some of the things I ordered, and I would like to hear your thoughts on these. Also, I bought some of my DIY supplies for my #KellysDiyXmas, so feel free to give me suggestions on what to make, since I don't really know yet 😀
---
Items for personal use
---
As I said earlier, I bought some stuff I really needed.
The first one is this cute little wallet. I usually buy my wallets from eBay, and I don't even want to tell you for how long I've had my last one that was around $6. It looks terrible, so I thought it's time to change things up. I got mine in the color "fruit green", whatever that means, but it has quite a lot of space, even though it's quite small. And it was $5.16.
The next personal item is a bag. Now you may or may not know this, but I am a student, and I travel back home almost every weekend (mommy's girl, I know :D). I have this big travel bag, that I have to carry on my shoulder, which is quite inconvenient. And it's heavy. So, I decided to get this giant backpack (72L). These are usually crazy expensive, and I managed to find this one for only $24.88 on eBay!
---
Blog equipment
---
You may know that I recently got a camera. A friend gave me her old one, since she no longer uses it and I'm still trying to figure it out, to be honest 😀 However, to be able to use it, and to have more quality photos, I decided to get the following:
Rechargeable batteries. Logically 😀 Even though I hate that I can't just plug it in, I prefer it to having to buy new batteries over and over again. I found this set of 12 AA batteries for $5.26. Is that a bargain, or what?
Next is memory. We all know memory can be an issue. The friend that gave me the camera, gave me her memory card, too, but it had the capacity of only 512 mb. That's way too little, right? Well, I decided to go on eBay, and try to find the same card with more memory, and I found this one with 8Gb for $5.62. Do you know what happened? My camera supports up to 512 mb! Yes, I can't use it 😀 Fun fun fun! I'll probably try to sell it, or something, since I don't have anything else that has that kind of memory card.
The last thing is actually meant to improve my photography, which needs improvement. Big time! It is a ring light, which I hope I will be able to use, since it says it's for Go Pro, which I don't have 😀 But somehow I thought it would work anyways, so we'll see about that. I found this ring light for only $6.50. That's not a lot, right?
---
DIY supplies
---
And now for the DIYs. You may remember that last year I did 4 posts of #KellysDiyXmas, one for each week leading up to X-mas. I would like to do the same, so I decided to get some supplies ahead of time. If you didn't see my last year's posts, you can see them here: #KellysDiyXmas no.1, #KellysDiyXmas no.2, #KellysDiyXmas no.3 and #KellysDiyXmas no.4.
The first thing are these little pom poms. I just can't get over how cute these are. I used them last year in my 1st #KellysDiyXmas for decorating my little trees, so I had to get more and use them, even though I still don't know how I'm actually going to use them. A pack of 100 pom poms is $.98! I got a pack of 50 or so last year for about $4-5, so this is a total bargain!
Next I have something a tiny bit ridiculous, and I'm pretty sure my Mom will think I'm crazy once it arrives, but I got a bit caught up in the orders 😀 I ordered 40, yes 40, felt sheets (each one different colour) for my DIYs. I've never worked with felt, I don't know how it works, but it was $4.74, so I got it 😀 We'll see how that will turn out.
The last thing I ordered is something that represents Christmas decor to me, and that is jute. I love the look and the feel of it. It's very rustic, but it brings some sort of comfort into a home and it makes every decor classy to me. I got this 10m ribbon jute (or burlap, whatever it actually is), and I will find use for it for sure, but do let me know if you have ideas. I found it for $1.98.
And now onto deals and saving!
---
Ebates
---
Ebates is a Cash Back website. You can get cash back on more than 2,000 websites, so whatever you buy, you can get a percentage of your money back. You can get up to 40% cash back, and there are thousands of coupons available. I used it for eBay, and you can get 5% cash back there.
Now, I have a very good offer for you. If you use my referral link, sign up via that link and then spend at least $25 within one year from signing up, you get $10 on your account. You get paid either via PayPal, or you get a Big Fat Check 4 times a year if you have at least $5.01 on your account. Does that not sound great?
Also, upon signing up, you also get your own referral link, and you can earn $75 for 3 referred friends, and $25,000 or more if 1,000 people use your code! So, help me earn some money with my referral link, and earn some yourself!
---
Dealspotr
---
Another app to use to save and EARN money is Dealspotr. Dealspotr is an app where you can find, spot, add or repost deals from many available stores. You can find deals for $ off, % off, free shipping and more! That way you save money, but you also gain points, which you can exchange for gift cards or cash via PayPal (Influencers only).
Dealspotr is the "Wikipedia of deals". More likely than not, you will find a deal that you can use, and you can save a lot during your X-Mas shopping! Have you already started your gift shopping for Christmas? I haven't 😀 So I might have to start doing that.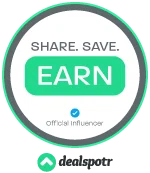 When you sign up for Dealspotr, you can earn $10 on day 1! It is actually sort of a social media for coupons. You can subscribe to certain brands or deals, predict which deals will become "hot", etc.
You can sign up via my referral link, as well, where I get a small commission for points you earn yourself, but it costs you absolutely nothing to sign up via my link. If, for some reason, you can't use the link, you can also use my code, which is KELLY1393. When you sign up via my link and complete all the tasks needed, you will get +5,000 points, which equals $5, just for signing up via my link! Who doesn't want free gift cards and for so little effort?
If you would like to be an Influencer yourself and have some really cool perks, like lifetime of double points, commissions for your referrals and more, let me know via email, or down in the comments, and I will send you a special code and link for signing up as an Influencer.
You can find out more about earning points and about the app here.
That's it for today's post! Do you have any suggestions for my #KellysDiyXmas? Do you use any of the apps I mentioned for saving money? Did you sign up using my links *wink wink*? 🙂
Feel free to send me any suggestions for my X-mas DIYs over on Pinterest!
Disclaimer! Some of the links in this post are affiliate links. That means I get bonus points, or cash, if you use my link to sign up, but you won't pay more or lose money because of that! I will use the money I earn that way for improving my blog! Thank you for using my links!
Thank you for reading!
See you soon xx