Hello everyone!
I am back with another shopping post. I am so terrible when it comes to deals, especially huge ones like Black Friday. It makes me want to buy LITERALLY everything and I am trying soooo hard to contain myself. This year, I've decided to buy Colourpop stuff only. However, if a super (I mean EXTRA super) deal comes my way, I might order a few more things.
As you may or may not know, I posted the same type of post last year (if you're interested to see what kind of deals I found then, here is the link). This year, I decided to invest a tiny bit more time, as well as space in my inbox for newsletters, and bring you as many deals as possible. That way, you can just check this post a few times to see any changes, which will be in red(!), and your inbox doesn't have to be cluttered. However, I am not going to delete any, so I'm sorry if they expire, but I really hope they won't.
---
Save money while you shop
---
As I already mentioned in one of my previous posts, My eBay Order and Saving Money on Xmas Shopping, I still have promo codes for two sites that will either earn or save you money. I'm sorry I'm repeating myself, but I have some updates, so just bear with me.
Ebates
As you know from that post, Ebates is a rabates website. So you get cash back for a certain percentage of money you spend on online shopping. They often have double cash back on days like Black Friday, so it's saving you even more money. Make sure you instal the button for your browser, which tells you if a store you came to has Ebates!
Also, if you sign up via my referal link, you get $10 after spending $25 in total within one year of signing up. You can also refer friends, and get $25 for the first three who sign up via your link, and then $5 for each additional one (and they get $10 just like you here). This deal ends on December 31.
As I mentioned, I have updates. I already earned $53.96. $3.96 is cash back, and I earned $50 through people who used my link, so thank you, everyone! This is just to prove that it actually works 🙂 I will receive this payment February 15.
Dealspotr
I also have to mention Dealspotr once again. This is a website where you can find all the Black Friday deals (or any other day, really), post your own deals and earn points while doing so. For every 10,000 points, you get $10, which is not hard to get at all. If you use my referal link, you will get additional $5 after signing up and completing the necessary steps. You can redeem your prize in Amazon giftcards, or PayPal payments if you're signed up as an influencer.
If you are a blogger, or Instagrammer, or influencer of any sort, make sure to send me an email at someone1393@gmail.com, and I will send you a special code for you to sign up, and you'll get bonus perks like double points, referals, referal points, etc. If you already use Dealspotr and want to become an influencer, let me know 🙂 It really is awesome, and I really actually made money with this. See below!
With Dealspotr, I gained my first payment, which was $37,94 (I redeemed $40, but PayPal took a bit over $2) for VERY little effort, and now I'm waiting for my next one, which is $1o, and that I made solely on my referals, with barely any activity on the page. Once again, sign up here.
Okay, enough selling and shameless self-promotion, which is what this totally was 😀 Let's get on to the actual deals!
---
Black Friday Deals of 2016
---
Colourpop
20% off their liquid lipsticks! Including kits and mini kits! Such an awesome deal, since their prices are already a bargain!

You get $5 off your first purchase when you sign up to their newsletter 🙂 Check out the Colourpop website.
SocialTrend
50% off everything!* For Black Friday only!
FeelUnique
FeelUnique is one of my favorite sites (mostly to look at :D). They have some pretty amazing deals, and their Black Friday is actually the whole 'Black Week'.
Get 20% off everything with code MAGIC 20. Click here to see more deals, including deals on FOREO, Murad, Origins and many more.
Cloud 10 Beauty
20% off everything on site from midnight tonight until Midnight Sunday with code BLACK20. Valid until Midnight Sunday. Check out their website here.

Elf Cosmetics
Elf Cosmetics have 50% OFF Site-Wide!* Code BLACKFRIDAY orders £30+ *excludes new products. This deal ends today, check out this post tomorrow for tomorrow's deal.
FOREO
So, in Croatia and Europe (maybe US, too), FOREO products are 25% off during Black Friday. I'm sorry I don't have my review of my FOREO LUNA Play up yet, but I will have it up next week, hopefully. You can still try the mini version, which is not too expensive, but is not re-chargeable. Check out FOREO website for more detail.
Ulta
Oh, God, how I wish we had Ulta. Do you know why? Of course you don't, but you will. They have THE Nyx advent calendar, which I want soooo bad, for only $24.99. Normally it's $49.99 and it's a $75 value! How lucky are you guys in America? I'm not even going to show this to my Croatian readers. I mean, they have a bunch of other deals: Tarte, Smashbox, TIGI, Philosophy and a bunch of other sooo unavailable to me deals, but just with that Nyx one alone, I'd be happy 😀 (Also, Ulta uses Ebates! Don't forget to use cash back!)
Also, it starts on November 24 at 5 pm CT, and stores open at 6, so you're ahead! 😀 Ahhh happy shopping gals, buy me something 😀
SheIn
SheIn has Free Shipping and some additional Black Friday sales! 40% off on orders over $55 with a code FRI40, and 45% on orders over $105 with code FRI45. On orders over $89, you get a free gift! Check it out here!
Zaful
Until 29th November, you get free shipping on Zaful with no minimum purchase requirement. Join with my link to get a $10 discout! Check out their website here.
TAM Beauty
So, I'm not very familiar with this site, but TAM Beauty has Makeup Revolution, so I'm all for it 😀 They have up to 80% off on many different products. Their shipping rates are not crazy either, and you can check them out here. Overall, since MR is already not an expensive brand, I think this is an awesome deal. If you check out their gift sets, you might find their oval brushes. Just sayin'.
Beauty Box 5

Get free shipping on your subscription box order at BeautyBox5.com
Get 3 free samples with every order at BeautyBox5Shop.com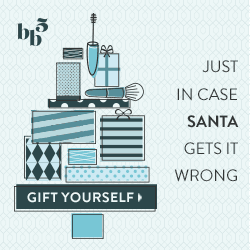 Anastasia Beverly Hills
I am just going to put this photo here and say absolutely nothing:
And that's it for this post! Do you plan on going crazy this Black Friday? Do you plan to shop at all? Do you know about a sale I didn't mention? Let me know in the comments!
Thank you for reading!
See you soon
*This post contains affiliate links
Follow me on Bloglovin | Instagram | Facebook | Twitter | Pinterest